Meet Midnight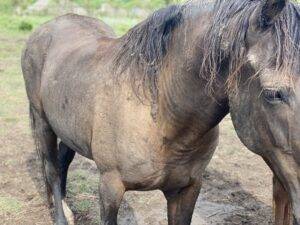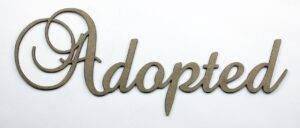 Our 3rd Tennessee Walker to rescue, Midnight was not as much of a hard luck story as many of our horses. His owner, realizing he could not longer afford to care for him, contacted us. We gave the owner some money to help cover the debt acquired from owning horses and brought Midnight into our care.
He has been described as a gentle giant. He stands tall when alert. While he was not a victim of abuse, he had been a pasture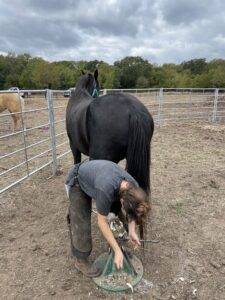 dweller for several years. The owner told us he was 5, but we could tell when we arrived (by looking at his teeth) he was much older. Sometimes owners fear will will not take them if they are "old." As you can see from his rescue pic above, he was not getting any loving care.
Upon his first medical exam, we confirmed his age and had his teeth floated. He has been on a joint supplement with hisgrain everyday. While he is slow to trust and is head shy, he does stand patient for a ferrier. We always have their hooves inspected and trimmed as part of the regular care.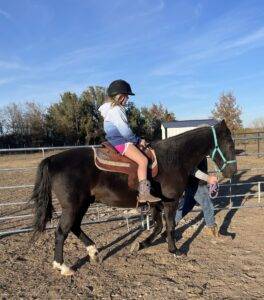 After a series of ground work sessions, we got him under saddle. and he exhibits clambehavior. We even put one of our daughter son him to show his demeanor.
Midnight is ready for his forever home. Click Here to Adopt