SO WHAT'S A TYPICAL RESCUE LIKE?
While every horse rescue is unique, what we try and accomplish with each one is similar. We have 3 main PHASES that our horses go through. Sometimes it is complete in a month, sometimes a year. When they are ready for adoption, you will see the
 symbol on the horses' page.
PHASE 1 : RESCUE – FROM A LIFE OF HOPELESSNESS.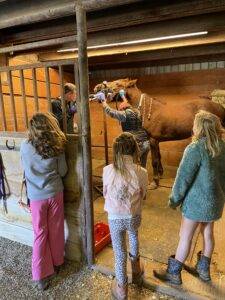 Picking up the horse and getting him/her out of its sad situation is only the beginning. All horses are immediately examined by our vet and a care plan is created. We redo coggins, vaccines and teeth care. Our farrier begins hoof treatments. Since many come from a kill pen, all horses are kept in a separate quarantine center on our ranch for at least the first 30 days. This ensures that we have treated any and all conditions that may affect the other horses on the property. Our quarantine center is a self;-contained area with separate water, tack and feed supplies to ensure there is no spread of disease on the ranch.
All horses are given the best medical care and treatment. The feed is supplemented based on the individual needs of the horse. We focus on alfalfa hay from California or Arizona as the main source of diet.
PHASE 2 : RESTORE – TRUST IN HUMANS AND ITSELF.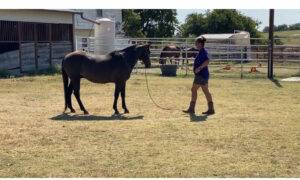 Once our medical and care team has done their part, we begin the
(often times) long journey to #horsetrust again. We use many of the methods from the Clinton Anderson Method for our training. However, not all horses are alike, so we also use techniques from other great trainers as well.
The goal is to get the horse to trust humans again. This is huge challenge, but a rewarding one. But it is also to get the horse to trust itself again. One of the things we notice in our rescues is that many have given up. They feel like it is them that caused the abuse. They are not sure why, but they stop trusting their own instincts as well. So we are just as focused in the horse believing in itself again as much as us humans.
PHASE 3 : RELIVE – THE LIFE IT WAS CREATED TO LIVE IN A FOREVER HOME.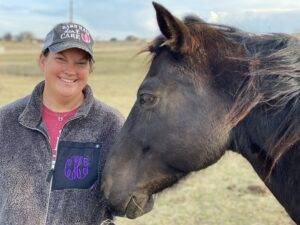 This part is our favorites of course. It's the phase where a horse once in a hopeless, often terminal, situation how gets to live the life it was created for in a new Forever Home. We use the term Forever Home because that is exactly what we are looking for. No horse flippers or brokers or "casual" first time horse owners.
Anyone adopting one of our rescues and giving them a Forever Home, must complete an extensive application process. We talk with and get references from your vet and farrier who will care for the horse and even try to inspect the new living situation before approving.
WANT TO ADOPT, BUT DON'T LIVE IN NORTH TEXAS? 
No Worries. We have a great transport company you can work with:
Method Man Horse Transport  360-271-9633 or email at [email protected]