Meet Boomerang                   
His mama died when he was 6 weeks old and the owner didn't want to take care of him, so Boomerang ended up in a kill pen in Arkansas. When we picked him up, it was obvious he had a lot off issues. So we took him straight to our vet. Sure enough, he had an ulcer in the right eye, pink eye in both eyes and a massive amount of worms in his belly.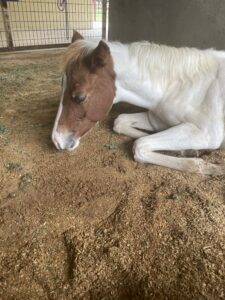 Boomerang was our first colt rescue. We have never seen such a depressed horse. He barely moved and his eyes were so sad – filled with hopelessness. Thankfully, our followers and supporters responded and we were able to keep him in quarantined 24-hour care for his first 10 days.  
The result? He recovered nicely…
And found his forever home in California! And he has some new friends.