Meet Kinley
This mare was rescued from a kill pen in late March 2022. She come to us with all kinds of medical issues and was in obvious pain. Although coming from a "wild" environment, meaning no humans, she responded to our attempts to connect fairly quickly. Likely due to her pain.
She is about 25 years old and as gentle as they come. And she will make someone a terrific pasture pet. She already nuzzles you if you stop touching for more attention.
Like all of our rescues, she has to go through a full medical plan before she can be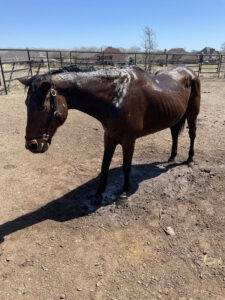 considered for adoption. She has never had her teeth or hooves done that we can tell, for example. And that is standard procedure for us upon intake. In the picture on the below, she has just gotten her first medicated bath. Kinley had tons of ticks and a belly full of worms. But she is improving little by little as you can see in her photo above.