Meet Idina
We were listening to a Frozen 2 soundtrack and the song "Show Yourself" came on and so her name became Idina – the name of the actress singing the song.
This young lady came in with other weanlings. She was taken from her mother early and it shows. She is very scared having been through so much so young. She is a beautiful perlino with ice blue eyes.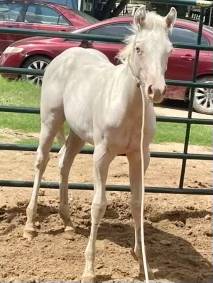 Her owner simply could not afford to take care of her. We rescued her on her way to be shipped off to a sad ending.
She is about 5 months old and is healthy, yet needing lots of groceries.